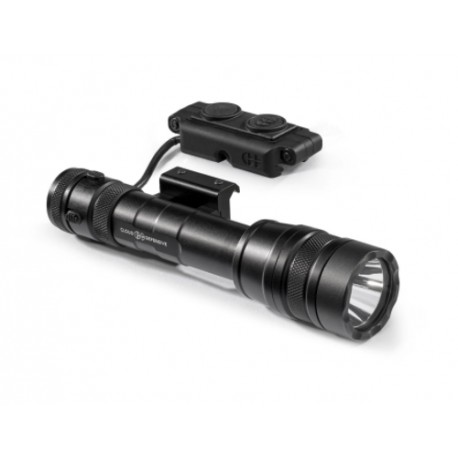 View larger
REIN light, picatinny, remote switch, Light Control System, battery&charger Black
REiN-CK-BLK
New product
Warning: Last items in stock!
Availability date:
More info
After over 2 years in development and testing, the REIN is here at last. It represents a quantum leap forward in both performance and critical features that shooters need and rely on. Putting out well over 60,000 Candela at 1,400 lumens, it's the most powerful weapon light on the market. Available in multiple sizes and multiple configurations, it's adaptable to your needs. And it's made here in the USA, by us, in our facility here in southern Indiana.
Standard Kit – push-button only
1 REIN
1 Push-Button tail cap
1 Picatinny Rail Mount for the REIN, with all mounting hardware
1 Cloud Defensive labeled Nitecore Charger
1 Micro USB to USB cord
1 Samsung 30Q 18650 battery
Complete Kit – includes remote switch
1 REIN
1 Remote switch tail cap assembly with integrated push button
2 LCS side plates with hardware
1 Picatinny Rail Mount for the REIN, with all mounting hardware
1 Cloud Defensive labeled Nitecore Charger
1 Micro USB to USB cord
1 Samsung 30Q 18650 battery
COMPATIBILITY
REIN is fully compatible with any platform that allows for traditional picatinny, M-LOK (trademark) or KeyMod light mounts. The optional remote switch for the REIN is only compatible with the REIN itself. No reverse compatibility for other light manufactures exists.
MATERIALS
Precision machined from Certified 6061-T6 aluminum.
Type III Anodized to MIL STD. "Hard coat".
POWER
A USA-made, state-of-the-art electrical system using the best components that money can buy. That gives us the output, efficiency and run-time that makes REIN the class leader.
Uses a single 18650 battery. No CR123 batteries allowed. Use of CR123 batteries VOIDS your warranty. We supply a Samsung 18650 30Q with the REIN. The 30Q battery has more output with shorter run-time of 85-90 minutes. Please note that unlike its peers, REIN will produce useable light for at least 6 straight hours.
Accepts ALL protected and unprotected 18650 batteries. Accepts both button-top and flat-top batteries. NOTE: Various battery sizes will require use of the provided Battery Jack feature.
Run-time at 100% power is industry-leading.
FEATURES
Modular 3-piece design makes the REIN upgradeable over time.
Exceeds well over 60,000 Candela.
1,400 Lumens of output.
IPX-8 waterproof rating. Fully submersible to 100 ft for 24 hours. Remote switch included.
Run-time standard per ANSI/PLATO-FL1 = 130 minutes. The amount of time until the light reaches 10% of its original output.
Proprietary Field-Serviceable Lens System. The end-user can now replace the glass lens themselves. The glass on the REIN is 3mm thick, which is the thickest in the industry. It can take multiple hits from 5.56mm Simuntion rounds.
S7 Tool Steel bezel ring. Heat-treated to 53 Rockwell. Your light is now an impact tool.
Patented Battery Jack feature. This allows you to properly tension the battery inside the system to avoid battery bounce. This lengthens the life of your system and increased reliability substantially.
Patented tail-cap cartridge is easily replaceable and allows for multiple configurations without removing the tail of the light.
REIN comes standard with a push-button-only configuration. Located in the tail cap, the switch offers both momentary-on and constant-on capability.
Patented remote switch (optional). Offers both momentary and constant-on functionality. The remote switch is electrically isolated from the push-button switch located on the tail cap. If your remote switch suffers catastrophic failure, your REIN still works via the tail cap button.
The optional remoted switch is housed in a 3rd Generation Light Control System. Available only for the REIN. It offers unprecedented cable management possibilities never before available even with prior generation LCS units. The remote switch is fully submersible and fully potted.
The optional remote switch utilizes a cable exit from the tail cap that is perpendicular to the bore axis. This allows your cable to be protected from potential snags and impact.
The optional remote switch wire is over-molded into the tail cap cartridge. And the tail cap body allows for the user to adjust the position of the tail cap based on user requirement or preference.
The optional remote switch cable is 5" long.
Shockproof. Dustproof.
Lifetime Warranty – with only a few exceptions. Remote switches are considered replaceable items not warranty items. Please see warranty info for full details.
Made in the USA. Manufactured and assembled in-house at our production facility.
DIMENSIONS
CANDELA

60,000

LUMENS

1,400

LENGTH

6.14″

WEIGHT

without battery 5.3 oz.

WEIGHT

with battery 6.9 oz.

BATTERY

18650
Information: To buy firearms and essential elements, you must have or be able to obtain a weapon permit (WES/SON/PAA/PAE) in Switzerland according to. (Art. 8 al. 1 LArm and ss and art. 15 al. 1 ss OArm)
If you fulfill this requirement and you purchase a firearm, please send us the WES / PAA to the following address: Dynamik Arms SARL/Gmbh, 124 route d Annecy, 1257 Croix-De-Rozon Suisse
To Buy ammunition, we will need a copy of of less than 2 years old weapon permit (Waffenerwerbschein (WES / PAA)) with the same caliber as the ammo purchased that can be simply sent pdf by e-mail.
WARNING: If you don't have such permit or have doubt on the possibility to obtain one, don't purchase the firearm, essential element or ammunition since we you will have a penalty of 30% of the firearm, essential element or ammunition sum for admin costs.
Leupold Optics: For all Mil/LE and Government Entities only. Please submit valid accreditation
Export notice: Certain items are controlled for export by the International Traffic in Arms Regulations (ITAR). These controls take the form of export regulations and license requirements.