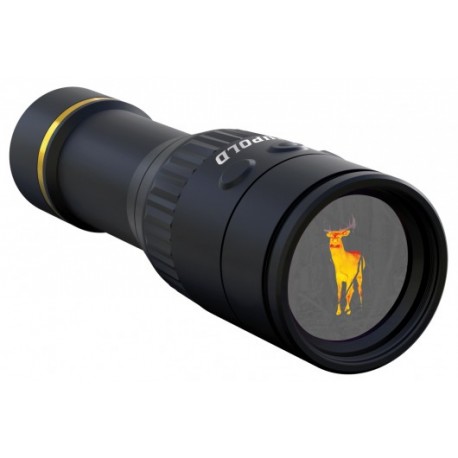 View larger
Leupold LTO Tracker Thermal vision
172830
New product
Warning: Last items in stock!
Availability date:
More info
The all new Leupold LTO-Tracker allows hunters to better understand their surroundings, easily recover game and have more success in the field. The compact thermal imager is only 5.6 inches long and weighs less than 10 ounces, allowing it to be carried comfortably in any pocket. It features a 21 degree field of view, 6x digital zoom, and has a thermal detection distance of up to 600 yards. The LTO-Tracker has 6 optional thermal palettes and a user controlled reticle for quick acquisition of the target. Above all, the LTO-Tracker sports a Leupold Gold Ring and is Designed, Machined, and Assembled in the United States. Add the LTO-Tracker to your pack and change the way you hunt forever.
– Thermal Sensor: 206 x 156 – Operating Temperature: -4F to 140F – Temperature Detection Range: -40F to 572F – Fixed Focus With 6X Digital Zoom – Display: Direct View 1.22? Round – Display Resolution: 240 x 204 px – Startup Time: < 3 seconds – Detection Distance: 600 Yards – Battery: CR123 – 10 Hours Continuous Use
Information: To buy firearms and essential elements, you must have or be able to obtain a weapon permit (Waffenerwerbschein (WES / PAA)) in Switzerland according to. (Art. 8 al. 1 LArm and ss and art. 15 al. 1 ss OArm)
If you fulfill this requirement and you purchase a firearm, please send us the WES / PAA to the following address: Dynamik Arms SARL/Gmbh, 124 route d Annecy, 1257 Croix-De-Rozon Suisse
To Buy ammunition, we will need a copy of of less than 2 years old weapon permit (Waffenerwerbschein (WES / PAA)) with the same caliber as the ammo purchased that can be simply sent pdf by e-mail.
WARNING: If you don't have such permit or have doubt on the possibility to obtain one, don't purchase the firearm, essential element or ammunition since we you will have a penalty of 30% of the firearm, essential element or ammunition sum for admin costs.