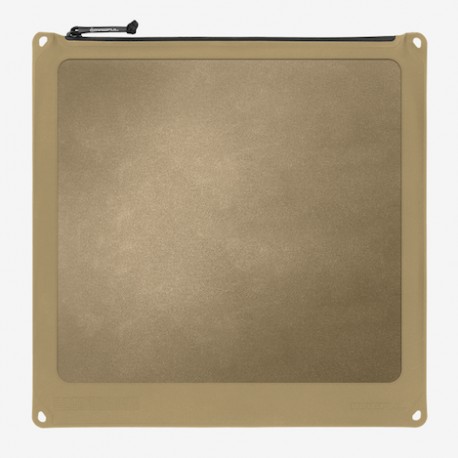 View larger
MagPul DAKA Window Pouch Document Pouch
New product
Warning: Last items in stock!
Availability date:
More info
The Magpul DAKA Window Document Pouch is constructed with a matte translucent TPU side panel and top zipper to allow vertical insertion of documents.
The fully sealed transparent window allows for easy viewing of the contents and also allows the user to manipulate any touch-screen devices inside.
Made in the U.S.A.
FEATURES
Reinforced polymer fabric with anti-slip texture
Welded construction creates permanent impenetrable seals
YKK AquaGuard™ water repellant zipper
550 paracord zipper pull with heat shrink
Paint pen dot matrix debossed into body for identification marking
Window: Matte TPU
Overall dimensions:13.6"x12.7"
Zipper opening: 9.5"
Compatible with most map pens
Made in the USA
Information: To buy firearms and essential elements, you must have or be able to obtain a weapon permit (WES/SON/PAA/PAE) in Switzerland according to. (Art. 8 al. 1 LArm and ss and art. 15 al. 1 ss OArm)
If you fulfill this requirement and you purchase a firearm, please send us the WES / PAA to the following address: Dynamik Arms SARL/Gmbh, 124 route d Annecy, 1257 Croix-De-Rozon Suisse
To Buy ammunition, we will need a copy of of less than 2 years old weapon permit (Waffenerwerbschein (WES / PAA)) with the same caliber as the ammo purchased that can be simply sent pdf by e-mail.
WARNING: If you don't have such permit or have doubt on the possibility to obtain one, don't purchase the firearm, essential element or ammunition since we you will have a penalty of 30% of the firearm, essential element or ammunition sum for admin costs.
Leupold Optics: For all Mil/LE and Government Entities only. Please submit valid accreditation
Export notice: Certain items are controlled for export by the International Traffic in Arms Regulations (ITAR). These controls take the form of export regulations and license requirements.