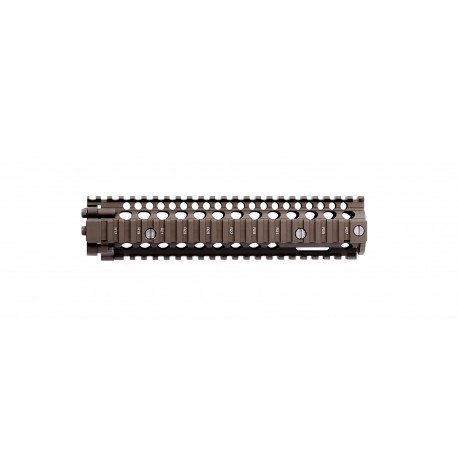 View larger
Daniel Defense MK18 Rail Interface System II, RIS II FDE
01-004-08020-011
New product
Warning: Last items in stock!
Availability date:
More info
The Daniel Defense Rail Interface System (RIS II) was designed at the request of the United States Special Operations Command (SOCOM) for the SOPMOD II program. SOCOM had a specific requirement for a free float M203 solution and Daniel Defense responded, designing a revolutionary product to meet the government's need. The Daniel Defense RIS II allows the individual operator to free float the M203 grenade launcher without additional parts. As important, special tools are not required to mount the M203 grenade launcher. This was accomplished by integrating all of the needed parts to free float the M203 into the rail itself. The Daniel Defense RIS II is to be used in conjunction with the MK12 Low Profile Gas Block.
KEY FEATURES
Aircraft Grade 6061-T6 Aluminum
Free-Floating Barrel Design For Increased Accuracy
Two-Piece Design for USSOCOM Allows For the Attachment of an M203 Grenade Launcher When Lower Rail Section is Removed.
Battle-Tested, 6-Bolt Bolt-Up System Securely Attaches Handguard to the Upper Receiver
Grade 8 Military Specification Fasteners
Uninterrupted Upper Rail Platform & Mil-Spec 1913 Picatinny Rails
Mil-Spec Type III Hard Coat Anodized Finish FDE

| | |
| --- | --- |
| Product Weight | 14.1 oz |
| Rail Length | 9.55" |
| Width | 2.23" |
| Height | 2.25" |
| Inside Diameter | 1.15" |
| Barrel Nut | Steel (For Patented Bolt-Up System) |
| Gas System | Carbine |
| Free Float | Yes |
| Continuous Upper Rail | Yes |
| Integrated Sling Swivel Attachment Point | No |
Information: To buy firearms and essential elements, you must have or be able to obtain a weapon permit (Waffenerwerbschein (WES / PAA)) in Switzerland according to. (Art. 8 al. 1 LArm and ss and art. 15 al. 1 ss OArm)
If you fulfill this requirement and you purchase a firearm, please send us the WES / PAA to the following address: Dynamik Arms SARL/Gmbh, 124 route d Annecy, 1257 Croix-De-Rozon Suisse
To Buy ammunition, we will need a copy of of less than 2 years old weapon permit (Waffenerwerbschein (WES / PAA)) with the same caliber as the ammo purchased that can be simply sent pdf by e-mail.
WARNING: If you don't have such permit or have doubt on the possibility to obtain one, don't purchase the firearm, essential element or ammunition since we you will have a penalty of 30% of the firearm, essential element or ammunition sum for admin costs.