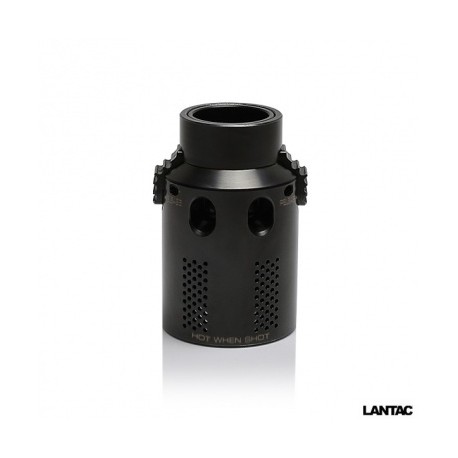 View larger
LANTAC BMD™ Type A2, Blast Mitigation Device™ for the DGN556B & DGNAK47B Muzzle Brake
LA00265
New product
Warning: Last items in stock!
Availability date:
More info
The BMD™ is a unique blast shield that allows the muzzle brake contained inside it to continue to function as normal with regard to muzzle climb mitigation. The patent pending design features unique 'through' ports that connect the muzzle brakes vertical vents to the outside atmosphere.
This feature allows the brake to function while within the device unlike other system that alter the way the original device works and inevitably remove or massively reduce efficiency.
The device also features sets of 'diffuser' grids positioned towards the top of the blast shield that assist in allowing gas to vent upwards as well as forwards at the time of firing, assisting even further in muzzle control.
Concussive muzzle blast is directed forwards, down range and away from other shooters and team mates.
Radial teeth at the exit aperture help to disrupt blast gas at it exits the device.

The BMD™ is mounted to the DGN556B™ Muzzle Brake through the use of an adapter collar. The collar is designed to fit as wide a range of brake outside diameters as possible and can effectively be mounted within the following size range:
.855'' to .872'' Diameter.
It is recommended that you use a quality set of vernier and check the outside diameter of your muzzle device before ordering.
Diameters outside the ranges listed may need additional gunsmith work to be fitted or may not be used with this product.
Measurements should be taken from the circular section of the brake marked with the 'LANTAC' logo.

The BMD™ mounts to the collar via the use of two rugged clips that must both be depressed together in order to remove the device from its mount..

The device ships with a vial of Rocksett that must be used to ensure all mounting set screws are retained in place when the adapter is mounted to the brake.

SPECIFICATION:
Caliber: 5.56X45mm / .223
Material: Milspec Gun Steel
Finish: Black Oxide
Dimensions: L: 2.570'', DIA of body at largest point: 1.600'', at smallest point: 1.185''
Width at mounting clips: 1.785''
Weight including all mounting hardware: 7.3oz
Designed for the DGN556B™ Dragon™ Muzzle Brake only
Full instructions included
Rocksett Included
Made in the USA.
Information: To buy firearms and essential elements, you must have or be able to obtain a weapon permit (WES/SON/PAA/PAE) in Switzerland according to. (Art. 8 al. 1 LArm and ss and art. 15 al. 1 ss OArm)
If you fulfill this requirement and you purchase a firearm, please send us the WES / PAA to the following address: Dynamik Arms SARL/Gmbh, 124 route d Annecy, 1257 Croix-De-Rozon Suisse
To Buy ammunition, we will need a copy of of less than 2 years old weapon permit (Waffenerwerbschein (WES / PAA)) with the same caliber as the ammo purchased that can be simply sent pdf by e-mail.
WARNING: If you don't have such permit or have doubt on the possibility to obtain one, don't purchase the firearm, essential element or ammunition since we you will have a penalty of 30% of the firearm, essential element or ammunition sum for admin costs.
Leupold Optics: For all Mil/LE and Government Entities only. Please submit valid accreditation
Export notice: Certain items are controlled for export by the International Traffic in Arms Regulations (ITAR). These controls take the form of export regulations and license requirements.