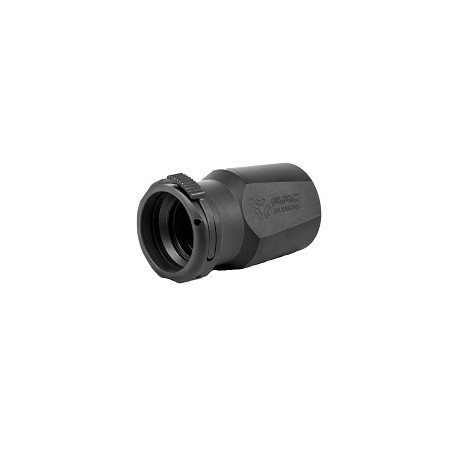 View larger
AAC BlastOut 51T Ratchet Mount
64280
New product
Warning: Last items in stock!
Availability date:
More info
The AAC BlastOut is a muzzle accessory designed to improve the modern sporting rifle user experience by significantly reducing blast pressure and concussive forces. The design directs the muzzle blast forward of the shooter. Range neighbors, training partners, and team members lateral of the muzzle benefit by the blast re-direction. The proven industry-standard 51-tooth mounting system and the upgraded 90-tooth taper mounting system allow for quick and easy one-handed operation. The steel body is designed for hard-use and long-term durability while a nitride finish creates a wear-resistant surface. The BlastOut adds only 6 ounces in weight and negligible overall length. Body Diameter - 1.50". Body Outer Diameter Max at Latch - 1.57".

BlastOut 51T for use with all 51T devices. BlastOut 90T for use with all 90T taper SR-series mounts.
Weight: 6 oz
Length: 2.5"
Finish: Nitride
Information: To buy firearms and essential elements, you must have or be able to obtain a weapon permit (Waffenerwerbschein (WES / PAA)) in Switzerland according to. (Art. 8 al. 1 LArm and ss and art. 15 al. 1 ss OArm)
If you fulfill this requirement and you purchase a firearm, please send us the WES / PAA to the following address: Dynamik Arms SARL/Gmbh, 124 route d Annecy, 1257 Croix-De-Rozon Suisse
To Buy ammunition, we will need a copy of of less than 2 years old weapon permit (Waffenerwerbschein (WES / PAA)) with the same caliber as the ammo purchased that can be simply sent pdf by e-mail.
WARNING: If you don't have such permit or have doubt on the possibility to obtain one, don't purchase the firearm, essential element or ammunition since we you will have a penalty of 30% of the firearm, essential element or ammunition sum for admin costs.