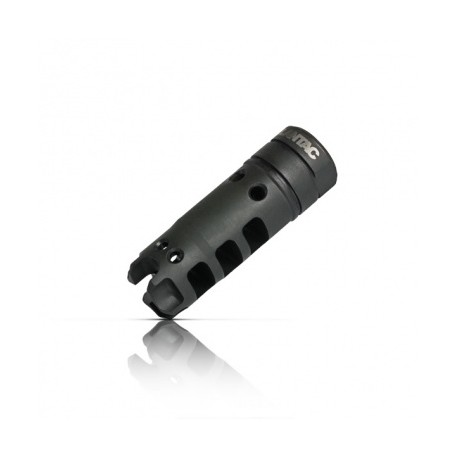 View larger
LANTAC Dragon Muzzle Brake for 9x19mm Caliber. Fits SIG SAUER® MPX
DGN9MMC
New product
Warning: Last items in stock!
Availability date:
More info
LANTAC Dragon™ Muzzle Brake DGN9MMC™ fits SIG SAUER® MPX.

Manufactured to the highest quality standards and featuring a patent pending design,
the LANTAC DGN9MMC™ Muzzle Brake offers improved recoil management and
muzzle rise over competitors products.
Its unique Short Energy Pulse
system reduces length of recoil so that repeating shot energy cannot
overlap and knock the shooter off target.
Full auto fire is possible with massively reduced recoil and muzzle climb, meaning that all shots fall on target.

SPECIFICATION:
Caliber: 9X19mm
Material: Hardened Milspec Steel
Finish: Nitride
Dimensions: L: 2.66'', DIA Body: 0.866'' DIA Fins:0.900''
Weight: 2.8oz
Thread: 13.5X1 L/H
Serial Numbered for Quality Control
Made in the USA

Information: To buy firearms and essential elements, you must have or be able to obtain a weapon permit (WES/SON/PAA/PAE) in Switzerland according to. (Art. 8 al. 1 LArm and ss and art. 15 al. 1 ss OArm)
If you fulfill this requirement and you purchase a firearm, please send us the WES / PAA to the following address: Dynamik Arms SARL/Gmbh, 124 route d Annecy, 1257 Croix-De-Rozon Suisse
To Buy ammunition, we will need a copy of of less than 2 years old weapon permit (Waffenerwerbschein (WES / PAA)) with the same caliber as the ammo purchased that can be simply sent pdf by e-mail.
WARNING: If you don't have such permit or have doubt on the possibility to obtain one, don't purchase the firearm, essential element or ammunition since we you will have a penalty of 30% of the firearm, essential element or ammunition sum for admin costs.
Leupold Optics: For all Mil/LE and Government Entities only. Please submit valid accreditation
Export notice: Certain items are controlled for export by the International Traffic in Arms Regulations (ITAR). These controls take the form of export regulations and license requirements.