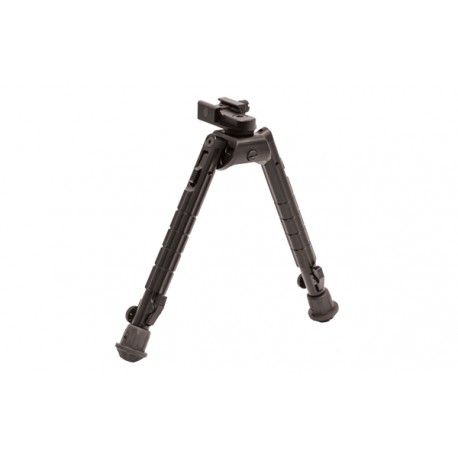 View larger
UTG Heavy Duty Recon 360 Bipod, Hiugh profile Ht: 20-30cm
TL-BP03
New product
Warning: Last items in stock!
Availability date:
More info
| | |
| --- | --- |
| • | Unique Tension Adjustable 360-degree Panning with Multi-axial Tilting Base to Achieve Virtually Any Desired Bipod Adjustment |
| • | Versatile Bidirectional Bipod Folding with 5 Posi-lock Positions for Convenient Use on Different Firearms at Varying Angles |
| • | Metal Construction with Square Steel Cross Bolt for Superior Hold on any Picatinny Rail |
| • | Innovative Offset Picatinny Mounting Deck Frees up Handguard Real Estate |
| • | Fully Adjustable Legs with 7 Extendable Lengths Lockable via Thumb Wheel for Enhanced Stability at Multiple Heights |
| • | Nonslip Rubberized Foot Pads for any Terrain or Surface |
| • | Complete with Swivel Stud Adaptor for Swivel Stud Mounting |
| • | Center Height Adjustable From 8.12-11.97 |
Yes
Yes
Yes
Yes
Yes
Yes
Yes
Rubberized Stand
Aluminum
15.3 oz
N/A
8.12"-11.97"
8.15"-12.43"
2.36"
Information: To buy firearms and essential elements, you must have or be able to obtain a weapon permit (Waffenerwerbschein (WES / PAA)) in Switzerland according to. (Art. 8 al. 1 LArm and ss and art. 15 al. 1 ss OArm)
If you fulfill this requirement and you purchase a firearm, please send us the WES / PAA to the following address: Dynamik Arms SARL/Gmbh, 124 route d Annecy, 1257 Croix-De-Rozon Suisse
To Buy ammunition, we will need a copy of of less than 2 years old weapon permit (Waffenerwerbschein (WES / PAA)) with the same caliber as the ammo purchased that can be simply sent pdf by e-mail.
WARNING: If you don't have such permit or have doubt on the possibility to obtain one, don't purchase the firearm, essential element or ammunition since we you will have a penalty of 30% of the firearm, essential element or ammunition sum for admin costs.