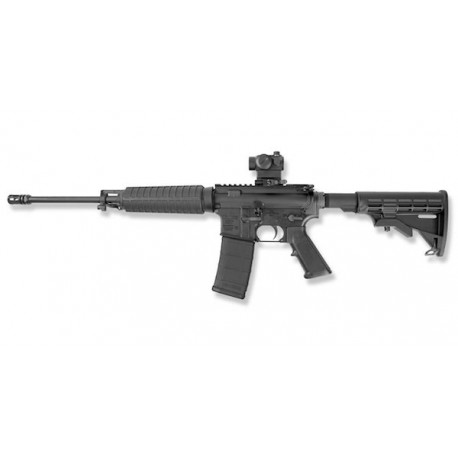 View larger
Remington - Bushmaster XM-15 QRC Mini Red Dot 5.56x45 Black
XM-15 QRC
New product
Warning: Last items in stock!
Availability date:
More info
Built on Bushmaster's workhorse of dependability XM-15 platform, the Quick Response Carbine delivers lightning-fast response in a lightweight, maneuverable AR. Comes equipped with a quick-detach, red-dot optic mounted atop the M4 receiver's picatinny rail. This Bushmaster AR style rifle is boresighted and ready for use, right out of the box.
It's the foundation upon which Bushmaster MSR supremacy has been built for more then 38 years. The XM-15 platform is a proven performer; in the hands of law enforcement organizations, military units in more than 50 countries, and countless competitors, hunters and recreational shooters. It's the model of adaptability, ready to configure for your pursuit.
Firearm Features
6-Position Stock
For ease of adjustment and precise fit. Stock has a staked castle nut & Mil-spec extension tube
Quick Detach Mount Red Dot Optic
For quick response and alignment
30 Round Magpul PMAG
For added durability and dependability
7075 Forged A3 Flat Top Upper Receiver
For increased strength and ease in mounting optics
7075 Forged Lower Receiver
For added durability and dependability
Information: To buy firearms and essential elements, you must have or be able to obtain a weapon permit (Waffenerwerbschein (WES / PAA)) in Switzerland according to. (Art. 8 al. 1 LArm and ss and art. 15 al. 1 ss OArm)
If you fulfill this requirement and you purchase a firearm, please send us the WES / PAA to the following address: Dynamik Arms SARL/Gmbh, 124 route d Annecy, 1257 Croix-De-Rozon Suisse
To Buy ammunition, we will need a copy of of less than 2 years old weapon permit (Waffenerwerbschein (WES / PAA)) with the same caliber as the ammo purchased that can be simply sent pdf by e-mail.
WARNING: If you don't have such permit or have doubt on the possibility to obtain one, don't purchase the firearm, essential element or ammunition since we you will have a penalty of 30% of the firearm, essential element or ammunition sum for admin costs.