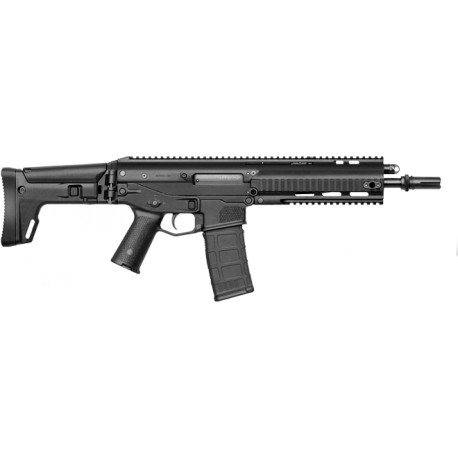 View larger
ACR SBR Enhanced 10.5" 5.56x45 Black
90045
New product
Warning: Last items in stock!
Availability date:
More info
AAC® BLACKOUT® flash hider with exceptional signature reduction
Three-sided aluminum hand guard with integral MIL-STD 1913 rail for accessory mounting
Folding and six-position telescoping high-impact polymer stock with rubber butt pad and sling mounts
Two-point push-button mounts and sling
10 ½" cold hammer-forged barrel with an innovative protective coating which uses a nitriting process that dramatically reduces wear for the ultimate in longevity and dependability
A2 birdcage-type hider to control muzzle flash
Adjustable, two-position, gas piston-driven system for firing suppressed or unsuppressed, supported by hardened internal bearing rails
Tool-less, quick-change barrel system available in 10.5", 14.5", 16.5" and 18.5" and in multiple calibers
Multi-caliber bolt carrier assembly quickly and easily changes from 5.56 NATO/223 Rem to 6.8mm Rem SPC
Free-floating MIL-STD 1913 monolithic top rail for optic mounting
Magpul® MBUS front/rear flip sights
Fully ambidextrous controls including magazine release, bolt catch and release, fire selector and non-reciprocating charging handle
High-impact composite lower receiver with textured magazine well and modular grip storage
Ships in hard case and includes 30-round PMAG™
Information: To buy firearms and essential elements, you must have or be able to obtain a weapon permit (Waffenerwerbschein (WES / PAA)) in Switzerland according to. (Art. 8 al. 1 LArm and ss and art. 15 al. 1 ss OArm)
If you fulfill this requirement and you purchase a firearm, please send us the WES / PAA to the following address: Dynamik Arms SARL/Gmbh, 124 route d Annecy, 1257 Croix-De-Rozon Suisse
To Buy ammunition, we will need a copy of of less than 2 years old weapon permit (Waffenerwerbschein (WES / PAA)) with the same caliber as the ammo purchased that can be simply sent pdf by e-mail.
WARNING: If you don't have such permit or have doubt on the possibility to obtain one, don't purchase the firearm, essential element or ammunition since we you will have a penalty of 30% of the firearm, essential element or ammunition sum for admin costs.