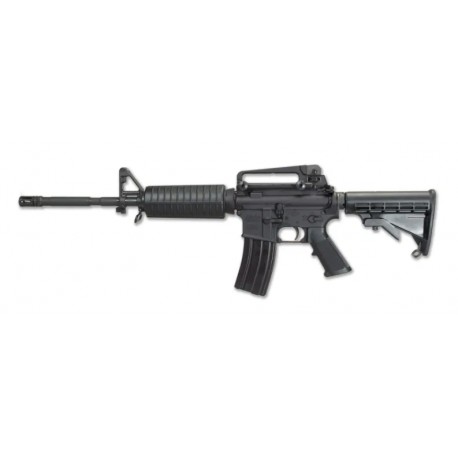 View larger
Windham Weaponry 16A4 MPC Rifle Cal. 556x45
New product
Warning: Last items in stock!
Availability date:
More info
Caliber: .223 Rem. / 5.56mm NATO

Action: Semi-Automatic, Gas Impingement System

Capacity: 30 + 1- Ships with one 30 Round Magazine (accepts all std. sizes)

Safety: Manual Lever with Indicator Markings on Both Sides of Receiver

Receiver: M4A4 Type Flat Top Upper Receiver with Detachable Carry Handle

Receiver Material: Forged 7075 T6 Aircraft Aluminum with Aluminum Trigger Guard

Receiver Finish: Hardcoat Black Anodize Finish

Bolt Material: Carpenter 158 Steel

Barrel: 16" M4 Profile, Chrome Lined with A2 Flash Suppressor

Barrel Material: 4150 Chrome Moly Vanadium 11595E Steel w. M4 Feed Ramps

Rifling: 1 Turn in 9" – Right Hand Twist

Stock: 6 Position Telescoping Buttstock with Windham Weaponry Logo

Forend / Pistol Grip: M4 Double Heat Shield Handguards / A2 Black Plastic Grip

Rear Sight: A4 Dual Aperture Elevation & Windage Adjustable: 300 – 600 M

Front Sight: Adjustable Height Square Post in A2 Standard Base

Packaging: Hard Plastic Gun Case with Black Web Sling & Operators Manual
Information: To buy firearms and essential elements, you must have or be able to obtain a weapon permit (WES/SON/PAA/PAE) in Switzerland according to. (Art. 8 al. 1 LArm and ss and art. 15 al. 1 ss OArm)
If you fulfill this requirement and you purchase a firearm, please send us the WES / PAA to the following address: Dynamik Arms SARL/Gmbh, 124 route d Annecy, 1257 Croix-De-Rozon Suisse
To Buy ammunition, we will need a copy of of less than 2 years old weapon permit (Waffenerwerbschein (WES / PAA)) with the same caliber as the ammo purchased that can be simply sent pdf by e-mail.
WARNING: If you don't have such permit or have doubt on the possibility to obtain one, don't purchase the firearm, essential element or ammunition since we you will have a penalty of 30% of the firearm, essential element or ammunition sum for admin costs.
Leupold Optics: For all Mil/LE and Government Entities only. Please submit valid accreditation
Export notice: Certain items are controlled for export by the International Traffic in Arms Regulations (ITAR). These controls take the form of export regulations and license requirements.