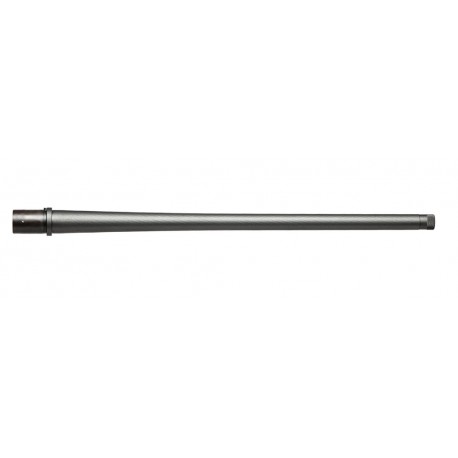 View larger
Daniel Defense Barrel DELTA 5 20" .308 HeavyPalma, COBALT
34-164-18067
New product
Warning: Last items in stock!
Availability date:
More info
Our cold hammer forged barrels are known to be as accurate and long lasting as any you'll find. And now, you can easily switch the caliber of your DELTA 5 with this barrel conversion kit. We've taken the modularity found in our ARs and adopted it for the bolt-action rifle by attaching the barrel via a barrel extension. Since the extensions are installed by us at our factory, headspace will always be correct because it is set at the time of manufacturing. To change barrels, all you need to do is remove the barreled action, remove the barrel nut, install the new barrel, tighten the barrel nut to the proper torque and then re-install the entire barrel/action assembly into the stock. With the included ½" barrel nut wrench, you can swap barrels in minutes. No gunsmith required!
Factory-Set Headspace
Easy to Install within Minutes
No Gunsmith Required
| | |
| --- | --- |
| Caliber | .308.Win |
| Barrel Length | 20" |
| Manuf. Process | Cold Hammer Forged |
| Twist Rate | 1:10 |
| Muzzle Thread | 5 ⁄ 8 × 24 TPI (Threads Per Inch) |
| Material | Stainless Steel |
| Outside Finish | Cobalt Cerakote H-Series |
| Inside Finish | N/A |
| Diameter At Gas Port | N/A |
| Barrel Extension | DELTA 5 |
| Barrel Profile | Heavy Palma |
| Weight | 1.48 lbs |
Information: To buy firearms and essential elements, you must have or be able to obtain a weapon permit (WES/SON/PAA/PAE) in Switzerland according to. (Art. 8 al. 1 LArm and ss and art. 15 al. 1 ss OArm)
If you fulfill this requirement and you purchase a firearm, please send us the WES / PAA to the following address: Dynamik Arms SARL/Gmbh, 124 route d Annecy, 1257 Croix-De-Rozon Suisse
To Buy ammunition, we will need a copy of of less than 2 years old weapon permit (Waffenerwerbschein (WES / PAA)) with the same caliber as the ammo purchased that can be simply sent pdf by e-mail.
WARNING: If you don't have such permit or have doubt on the possibility to obtain one, don't purchase the firearm, essential element or ammunition since we you will have a penalty of 30% of the firearm, essential element or ammunition sum for admin costs.
Leupold Optics: For all Mil/LE and Government Entities only. Please submit valid accreditation
Export notice: Certain items are controlled for export by the International Traffic in Arms Regulations (ITAR). These controls take the form of export regulations and license requirements.