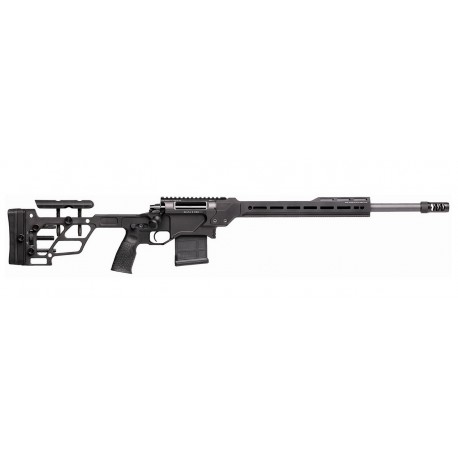 View larger
Daniel Defense DELTA 5 PRO, 20", .308, HPALMA Black
42-159-11229
New product
Warning: Last items in stock!
Availability date:
More info
ACCURACY. GUARANTEED.
GUARANTEED TO SHOOT 0.5 MOA OR BETTER. Talk is cheap—including talk about how accurate a rifle shoots—so we're putting some real firepower behind our words. All Daniel Defense DELTA 5 PRO rifles are guaranteed to shoot 0.5 MOA or less at 100 yards when used with quality factory match-grade ammunition. Not "should"; not "might." Guaranteed to. How can we make such a claim? Because we've done the work and the testing to back it up. It's not just talk; it's not bravado. It's science backed up by data. Data that says, "If we can do it, so can you." Guaranteed.
Interchangeable Barrel that Will Outlast the Competition
Nothing will outlast this threaded DELTA 5 PRO barrel. Forged to contour from a proprietary steel blend, swapping a barrel is easy with no need for a gunsmith. Cerakote finish ensures protection from the elements. Muzzle is manufactured with 5/8-24" TPI. (.308 – 1:10" Twist / 6.5 Creedmoor – 1:8" Twist / 6mm Creedmoor – 1:7.5" Twist).
Fully Adjustable Stock that Fits You.
The Comb/Cheek piece is adjustable for height and yaw. The knob has a knob/spring vice that makes for ease of adjustment, holding the setting in place when released. A c-clip is included, which allows the user to secure the comb's height. Integral set screws allows the user to set the height to a semi-permanent position.
MATERIALS & CONSTRUCTION
INTERCHANGEABLE BARREL – Forged to contour from a proprietary steel blend with a Cerakote finish. Replace barrels or change calibers with ease thanks to its modularity and proprietary barrel nut.
AREA 419 HELLFIRE MUZZLE BRAKE: Offers the ultimate in recoil reduction and muzzle rise
ACTION: Mechanically bedded stainless steel action with integral recoil lug
BOLT: Three-lug bolt with a 60-degree throw and floating bolt head
BOLT KNOB: 5/16 - 24" removable bolt knob
TRIGGER: Adjustable single stage Timney Elite Hunter with two position safety
PICATINNY SCOPE BASE: 20 MOA / 5.8 MRAD of elevation with four #10-32 bolts
CHASSIS BASE: Allows for the mechanical bedding of the action with a metal-on-metal design that protects against change in weather conditions
ATTACHMENT: M-LOK attachment at six positions along forend with one point on bottom of buttstock
QUICK DETACH: Ten M-LOK QD sling points
INTEGRAL ARCA LOCK (RRS Spec): Continuous along the entire lower portion of rail

| | |
| --- | --- |
| Mounting System | M-LOK |
| Caliber | .308.Win |
| Muzzle Thread | 5 ⁄ 8 × 24 TPI (Threads Per Inch) |
| Barrel Length | 20" 1:10" |
| Barrel Profile | Heavy Palma |
| Product Weight | 10.8 lbs |
| Length | 40 1/4" |
| Magazine | Magpul PMAG 10 7.62 AC |
| Case | Daniel Defense Full-Latch Impact Plastic Case |
Information: To buy firearms and essential elements, you must have or be able to obtain a weapon permit (WES/SON/PAA/PAE) in Switzerland according to. (Art. 8 al. 1 LArm and ss and art. 15 al. 1 ss OArm)
If you fulfill this requirement and you purchase a firearm, please send us the WES / PAA to the following address: Dynamik Arms SARL/Gmbh, 124 route d Annecy, 1257 Croix-De-Rozon Suisse
To Buy ammunition, we will need a copy of of less than 2 years old weapon permit (Waffenerwerbschein (WES / PAA)) with the same caliber as the ammo purchased that can be simply sent pdf by e-mail.
WARNING: If you don't have such permit or have doubt on the possibility to obtain one, don't purchase the firearm, essential element or ammunition since we you will have a penalty of 30% of the firearm, essential element or ammunition sum for admin costs.
Leupold Optics: For all Mil/LE and Government Entities only. Please submit valid accreditation
Export notice: Certain items are controlled for export by the International Traffic in Arms Regulations (ITAR). These controls take the form of export regulations and license requirements.