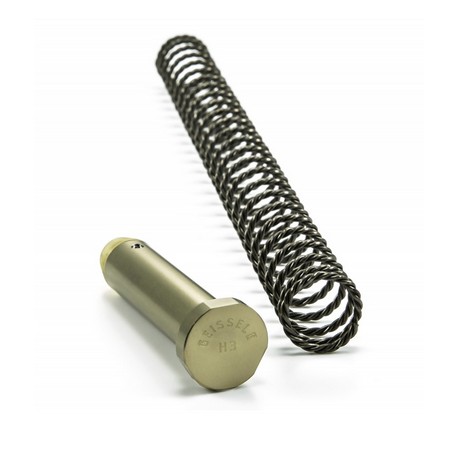 View larger
Geissele Super 42 Braided Wire Buffer & Spring Combo H3
05-495-H3
New product
Warning: Last items in stock!
Availability date:
More info
Super 42 Braided Wire Buffer Spring and Buffer Combo, H3
Full Description
The Geissele Super 42 Spring was designed to improve the function and reliability of your AR-15 pattern rifle. Its unique spring design uses three independent strands of wire, just like the German MG42 Machine Gun. This concept acts as a harmonic damper and energy absorber by allowing the springs to flex separately from each other. This flex helps displace excess energy which decreases the chance of spring failure and assists with making your AR-15 more reliable.
Compared to the stock spring, The Geissele Super 42 Spring has a decreased tendency to lose length and force over a given round count. As an added bonus, it removes the annoying spring reverberations (twang) heard and felt by the shooter through the buttstock. The Super 42 Spring has a 15% stronger average return force than the standard buffer spring. This will assist in stripping rounds out of the magazine when operating with a dirty weapon or when using steel-case ammo.

NOTE: The Super 42 is for use with Carbine length buffer tubes and is not compatible with rifle length or A5 buffer tubes/receiver extensions.
We do not recommend the Super 42 with 300 Blackout subsonic ammunition. The Super 42 Spring may be too powerful and not allow the rifle to function properly.
---
Additional Information
Notes

The Super 42 spring and Geissele buffer are designed to work together as a set; the spring will not fit over a standard buffer. If installed with a standard buffer damage to the rifle or receiver extension will occur.

Please refer to the Quick Reference Table for common balancing weights based on use with Mil-Spec AR15 / M4's chambered in 5.56 in the product gallery or download "Product Guide" under the Resources Section, below.

Barrel length, gas system, ammunition and manufacturer's specifications for build parts will largely affect the outcome. Further testing with preferred ammunition and buffer weights may be necessary to completely dial in a build.
Information: To buy firearms and essential elements, you must have or be able to obtain a weapon permit (WES/SON/PAA/PAE) in Switzerland according to. (Art. 8 al. 1 LArm and ss and art. 15 al. 1 ss OArm)
If you fulfill this requirement and you purchase a firearm, please send us the WES / PAA to the following address: Dynamik Arms SARL/Gmbh, 124 route d Annecy, 1257 Croix-De-Rozon Suisse
To Buy ammunition, we will need a copy of of less than 2 years old weapon permit (Waffenerwerbschein (WES / PAA)) with the same caliber as the ammo purchased that can be simply sent pdf by e-mail.
WARNING: If you don't have such permit or have doubt on the possibility to obtain one, don't purchase the firearm, essential element or ammunition since we you will have a penalty of 30% of the firearm, essential element or ammunition sum for admin costs.
Leupold Optics: For all Mil/LE and Government Entities only. Please submit valid accreditation
Export notice: Certain items are controlled for export by the International Traffic in Arms Regulations (ITAR). These controls take the form of export regulations and license requirements.