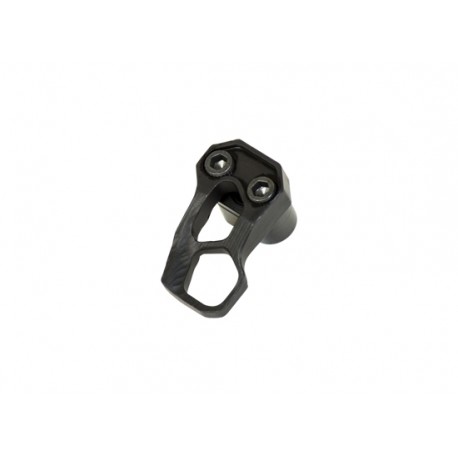 View larger
ODIN Works Extended Magazine Release Gen III ‐ Black
ACC‐XMR3‐BLK
New product
Warning: Last items in stock!
Availability date:
More info
Inspired by the ODIN Works O2 Lite, the XMR3 is the latest mag release available from ODIN Works. Machined from billet 6061 aluminum and designed to work with KNS pins and the BAD lever. The XMR3 has the largest profile yet, making it easily accessible by all shapes and sizes of hands and fingers. Works with both AR15 and AR10 lower receivers. Easy install that takes minutes.
Technical Specs


Compatible with BAD Lever.
Compatible with KNS Pins.
.1 oz (including paddle, button, and screws)
Large surface area for quick magazine reloads.
Easy to reach.
Ergonomic design.
Release magazine without changing grip or position.
Contoured for positive depression and reduced slip.
Information: To buy firearms and essential elements, you must have or be able to obtain a weapon permit (WES/SON/PAA/PAE) in Switzerland according to. (Art. 8 al. 1 LArm and ss and art. 15 al. 1 ss OArm)
If you fulfill this requirement and you purchase a firearm, please send us the WES / PAA to the following address: Dynamik Arms SARL/Gmbh, 124 route d Annecy, 1257 Croix-De-Rozon Suisse
To Buy ammunition, we will need a copy of of less than 2 years old weapon permit (Waffenerwerbschein (WES / PAA)) with the same caliber as the ammo purchased that can be simply sent pdf by e-mail.
WARNING: If you don't have such permit or have doubt on the possibility to obtain one, don't purchase the firearm, essential element or ammunition since we you will have a penalty of 30% of the firearm, essential element or ammunition sum for admin costs.
Leupold Optics: For all Mil/LE and Government Entities only. Please submit valid accreditation
Export notice: Certain items are controlled for export by the International Traffic in Arms Regulations (ITAR). These controls take the form of export regulations and license requirements.