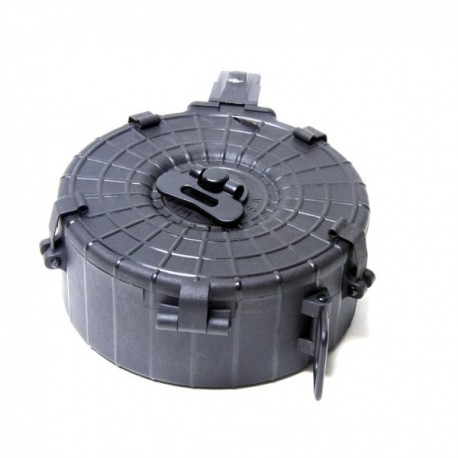 View larger
PRO MAG AK-47 7.62X39MM (73) RD DRUM BLACK POLYMER
New product
Warning: Last items in stock!
Availability date:
More info
The ProMag Drum magazine holds 73-rds of 7.62x 39 millimeter ammunition providing serious firepower for your AK-47, MAK 90 and many other AK variants. Constructed of a high impact Dupont Zytel based polymer with an over molded steel feed lip insert for added strength. Integral tensioner allows magazine to be stored loaded for extended periods while ensuring maximum reliability. Hinged back design allows easy access for loading, cleaning and inspection.


Brand: ProMag
Model: Drum
Materials: Polymer
Color: Black
Dimensions: 9 inches high x 6.75 inches wide x 2.75 inches deep
Weight: .75 lbs
Information: To buy firearms and essential elements, you must have or be able to obtain a weapon permit (Waffenerwerbschein (WES / PAA)) in Switzerland according to. (Art. 8 al. 1 LArm and ss and art. 15 al. 1 ss OArm)
If you fulfill this requirement and you purchase a firearm, please send us the WES / PAA to the following address: Dynamik Arms SARL/Gmbh, 124 route d Annecy, 1257 Croix-De-Rozon Suisse
To Buy ammunition, we will need a copy of of less than 2 years old weapon permit (Waffenerwerbschein (WES / PAA)) with the same caliber as the ammo purchased that can be simply sent pdf by e-mail.
WARNING: If you don't have such permit or have doubt on the possibility to obtain one, don't purchase the firearm, essential element or ammunition since we you will have a penalty of 30% of the firearm, essential element or ammunition sum for admin costs.